Description
Heen Bovitiya Powder (100g)
Heen bovitiya Powder has been used popularly to treat liver disorders in the traditional medical system in Sri Lanka. This product is free from chemicals and preservatives.
Useful Plant Parts of the  heen bovitiya plant
Lead and root of heenbovitiya
Heen bovitiya health benefits:
Porridge prepared from the young leaves is prescribed as a liver tonic
Herbal Teas made from dried mature leaves are taken for diabetes
Leaves are used to treat hemorrhoids
Leaves and roots are used to treat hepatitis.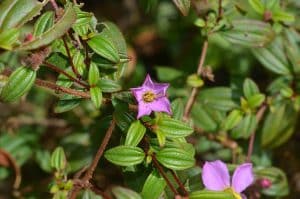 Source: (https://en.wikipedia.org)
Osbeckia octandra, the eight stamen osbeckia, is a plant species in the genus Osbeckia of the family Melastomataceae. It is considered to be endemic to Sri Lanka, where it is known as "Heen Bovitiya – හීන් බෝවිටියා" in Sinhala language. But some texts indicate that it is also found in Tamil Nadu of India.[3] Fruits are dry capsules with numerous seeds. Leaves and young stems are edible, whereas leaves, stem and bark also widely used as a valuable medicine in Ayurveda for treating Diabetes mellitus, Hepatitis, Jaundice, and Hyperlipidaemia. The juice extracted from Osbeckia octandra leaves is an effective treatment for liver damage caused by Paracetamol poisoning ~ Wikipedia~